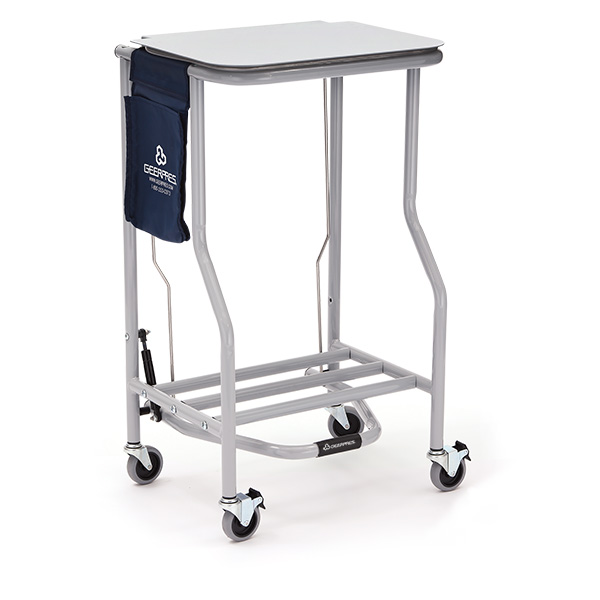 Muskegon, MI, March 17, 2017: Geerpres® has a history of providing innovative cleaning products and supplies for healthcare, building service contractors, and EVS teams (Environmental Services).
New to the lineup is the Geerpres® Linen Hamper. This hamper features an unbreakable lid, a virtually silent "soft" and hands-free close, and the durability Geerpres® is known for – including a 2-year warranty. The tubular steel design is easy-to-clean and eliminates formed-wire frames. Designed for efficiency and safety, the Linen Hamper has a narrower profile, allowing unobstructed pathways and reduced workman's compensation claims. HCAHPS scores can be improved with a unique and silent soft close.
Features of the Geerpres® Linen Hamper
Tubular steel construction for superior resilience and cleaning simplicity
Silent soft close to improve HCAHPS scores
Unbreakable steel lid with multi-lingual labels for "Soiled Linen", "Hazardous Waste," and "Refuse" included
Narrow profile allows for unobstructed pathways
Professional, clean powder-coated finish
Heavy-duty nylon pouch to retain liner(s)
Locking front casters
Protective measures to reduce wall damage
Heavy-duty nylon bag (available option)
Designed to prevent an overfilled liner
Geerpres® has been in business for 81 years. Their stainless steel wringers, seamless buckets and EVS carts have been the industry standard in healthcare facilities including hospitals, clean room, food service, education and more. The stainless steel cleaning products offer superior antimicrobial properties required in the healthcare environment. Today, Geerpres® has expanded to include patented, self-dispensing microfiber applicators, disposable mops and wipes that virtually eliminate cross-contamination concerns and increased productivity. Geerpres® also offers a custom cart program that can be tailored for specific needs and facilities. For a complete product line-up visit the website at www.geerpres.com.
Company Contact:
(231) 773-3211
(800) 253-0373
sales@geerpres.com