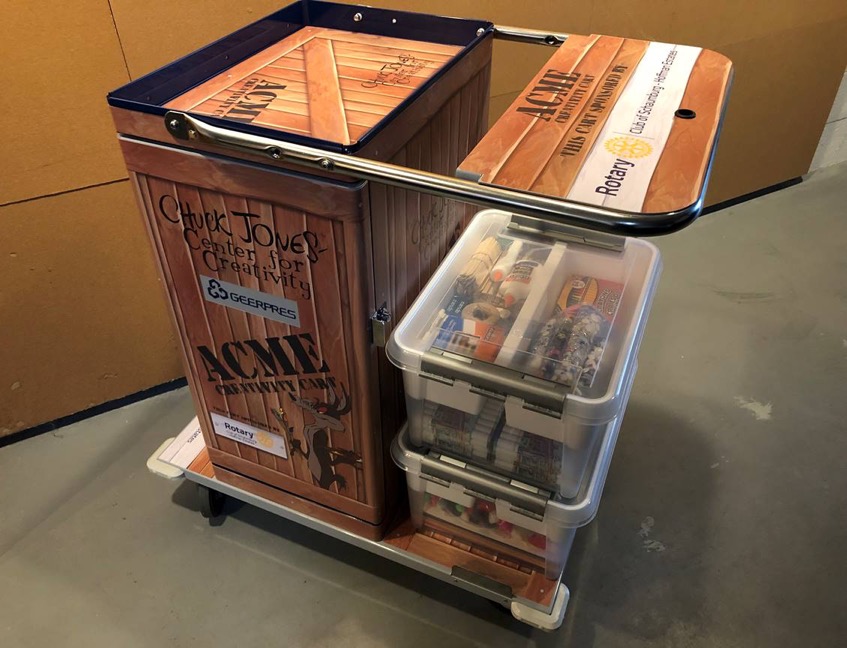 Muskegon, MI, April 18, 2019: Geerpres® has teamed up with Benjamin Olson and The Backyard Experience to provide the Acme Creativity Cart, a Chuck Jones Center for Creativity animated mobile art experience that provides interactive creative time for young hospital patients.
The Geerpres® Enterprise® EVS Cart is transformed to not only look the part but to accommodate items such as modeling clay, colored pencils, sticker books, crayons, coloring books, and more. The goal is to create an environment where young patients get to experience the healing joy and distraction of imagination and creativity while receiving critical treatment.
"We are continuing a cause that animation director Chuck Jones started in the 40s and 50s drawing with children in hospitals to brighten their day," said Benjamin Olson, Board Chairman with The Backyard Experience. "The Acme Creativity Cart allows young patients to explore their imaginations and be creative while receiving much-needed care. Geerpres® has the perfect solution with the Enterprise® EVS Cart for what we need to grow this wonderful program responsibly by having a hospital ready cart with a locking storage compartment, customizable accessories and an easy to wrap surface. We could not have had a better fit."
"What Ben and The Backyard Experience are doing for children across this country is truly exceptional," said Scott Ribbe, President of Geerpres®. The Enterprise® EVS Cart is a great fit for this project as it has a modular design that is completely customizable. We are excited to see this project take off!"
To learn more about the mission of The Backyard Experience or to donate to their cause, please visit thebackyardexperience.org.
Geerpres® Contact:
(800) 253-0373
sales@geerpres.com