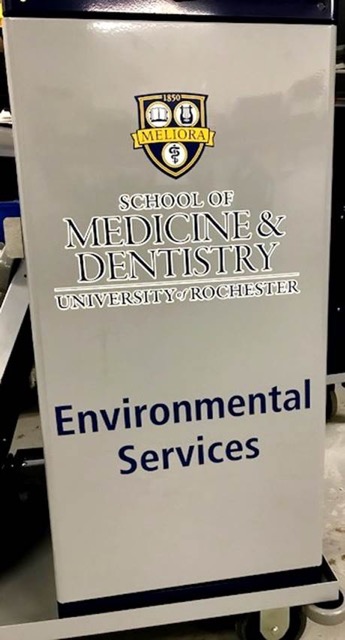 In a letter to fellow members of the Facilities Operations' directorial staff at the University of Rochester's School of Medicine & Dentistry:
SMD Environmental Services is proud to announce the release of their first round of new Geerpres Service Technician Carts.  Working directly with Geerpres, we were able to create a custom cart to fully meet the requirements of modern Environmental Services teams.  The new custom carts are direct replacements for their traditional Rubbermaid carts issued 10+ years ago.
Key features of the new carts include:
Built to specific UR-SMD Environmental Services requirements and specifications
Durable powder-coated finish, in university colors, for ease of cleaning/sanitizing
Hospital-quiet, sealed bearing, low-drag casters for improved patient/customer satisfaction and reduced worker fatigue
Proudly displayed official University of Rochester School of Medicine & Dentistry logos; approved by UR Marketing and Graphics Division
Direct investment in the employee; improves worker morale and reestablishes the importance of their critical roles in healthcare
33% smaller footprint and retractable front tray allows for ease of storage in closets with limited space; minimizes/eliminates abandoned carts in corridors
Integrated and lockable Virtual Manager tablet dashboard
40% more secured storage for chemicals and supplies for increased productivity; minimizes/eliminates multiple trips to closets and supply rooms throughout workday
Specific storage shelf dimensions restrict quart-sized product use to "pull-top" only; reduces the chance of aerosolization of cleaning chemicals and disinfectants for improved worker safety and improved indoor air quality
Made in USA; makes warranty, service, and parts readily accessible
 Attached are a few photos for reference. 
 Thank you,
Christopher J. Licata
Assistant Director
Facilities Operations/Environmental Services
School of Medicine and Dentistry
University of Rochester Medical Center